DLIC TEA的奶香烏龍為金萱茶種,金萱為俗稱之27仔的台茶12號。金萱可用來製作綠茶、紅茶與烏龍茶等。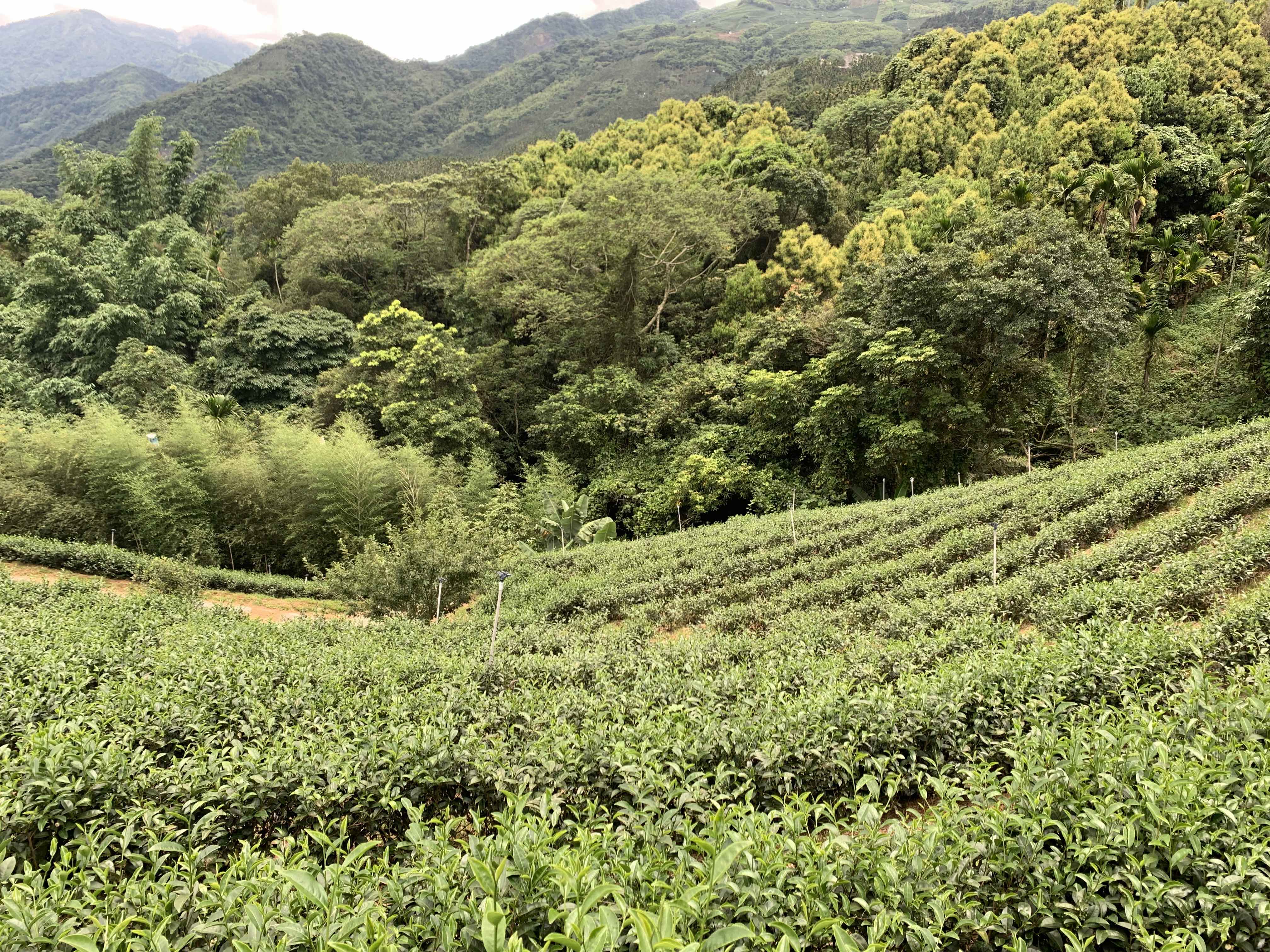 產區來自於阿里山地區之金萱茶故鄉,太興,海拔約1000公尺。日夜溫差大的環境,適合茶樹生產。金萱葉子肥厚、鮮嫩,茶葉色澤翠綠有光澤,滋味清純滑潤。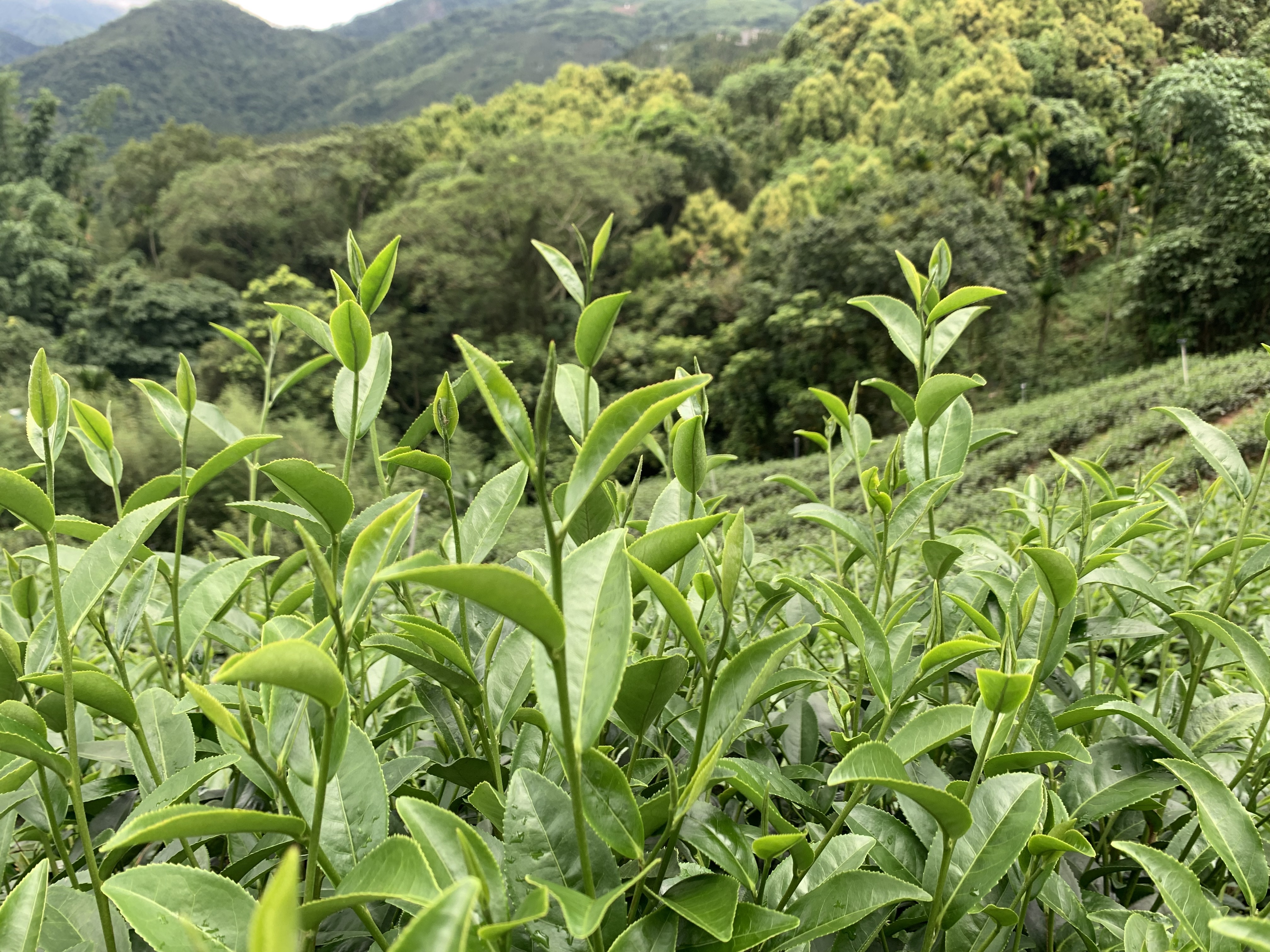 100%人工手採茶菁,天然奶香無添加人工香料且不混茶。奶香烏龍沖泡時,醇雅奶香濃厚撲鼻,細細品嚐,同時帶有些許蜜香。特殊奶香味深受女性與年輕族群青睞。


茶乾:球狀墨綠色。
茶湯:金黃色。
茶底:奶香、蜂蜜、花香。
後韻:回甘。


產地:台灣嘉義阿里山
海拔:1000公尺

內容物
真空包裝之75克或150克純奶香烏龍散茶+珍珠白色鐵罐。

茶罐
茶罐為隱藏式易開罐設計,開封後商品內之塑膠環將會脫落。
塑膠環脫落後仍為密封罐唷。



茶種
金萱種,台茶12號,俗稱27仔。奶香烏龍茶乾為球狀,茶乾顏色為深綠色。金萱茶樹為台灣普遍種植之茶樹品種之一,可用作成紅茶與烏龍茶飲用。
烘焙程度:輕發酵輕焙火。


~相揪來泡茶~

『 熱泡 』
茶量:覆蓋容器底部五分之一
水溫:85度-95度
沖泡時間:一泡氣味濃:90秒、二泡茶香濃:兩分鐘、三泡韻味甘:每泡起增加三十秒。

『 冷泡 』
茶量:100g水:2g茶葉。
水溫:常溫水或冷水。
時間:置於陰涼處或冰箱(夏天)內8小時,即可飲用。

可依個人飲用習慣,尋找適合自己的泡茶方式!


『 自主送驗,安心飲用 』
1. 100% 台灣茶,可以追溯自台灣茶農自信滿滿傑出之作。
2. 通過德國騰德姆斯實驗室檢驗,茶品符合台灣、美國、日本標準。
3. 投保南山產險一千萬產品責任險。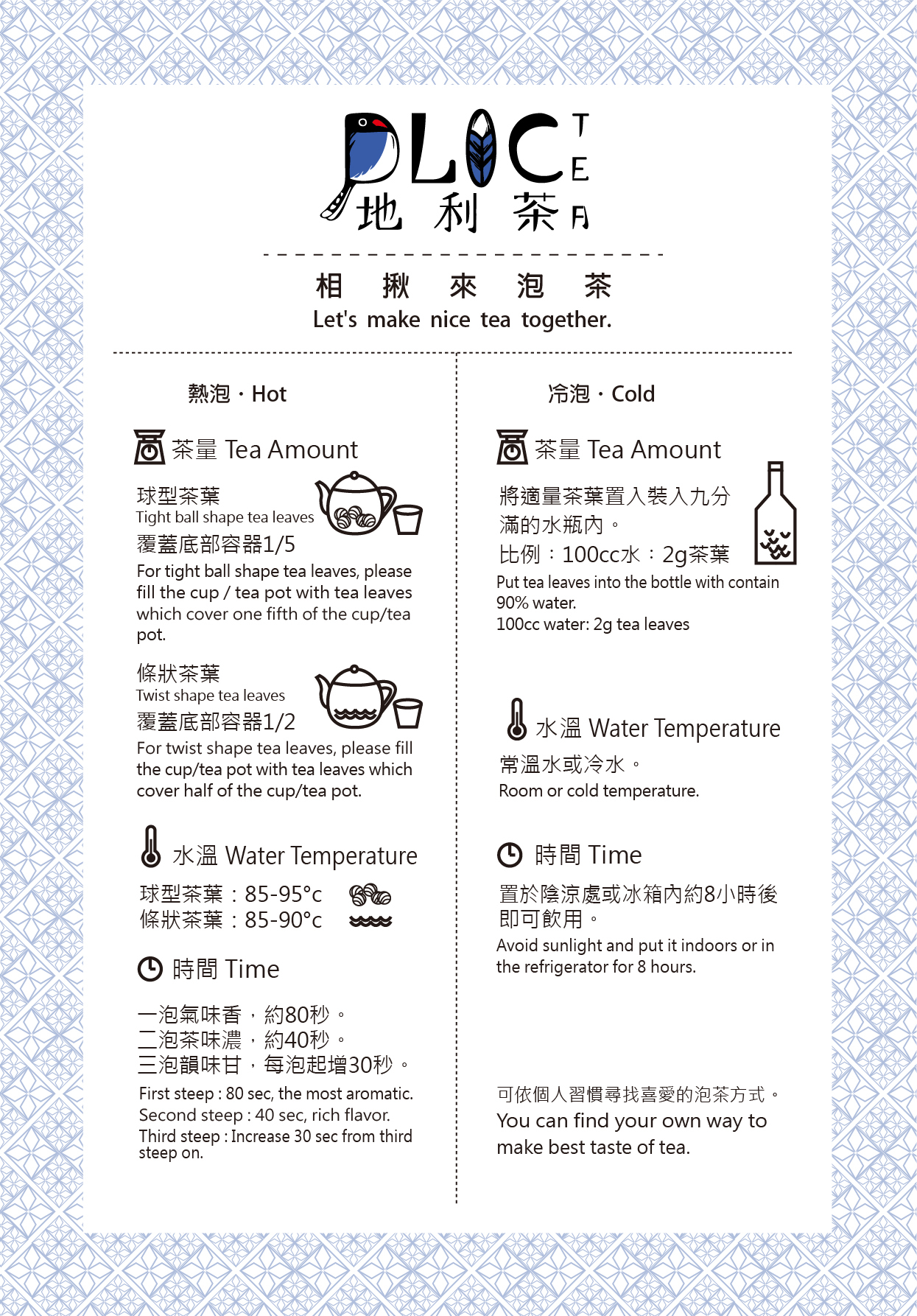 Milk Oolong is also named JinXuan and No.12. JinXuan can be produced green tea, black tea and oolong tea based on fermented level.

Our Milk Oolong is from Great Alishan Area, Taishin where it is called the hometown of JinXuan in Taiwan. The altitude is around 1000m. Alishan, Ali Mountain is a famous place to plant and nourish tea where it is covered by mist more than half a day. Because of the altitude and the weather, cool temperature slows down bush's growth, causing smaller and thicker leaf which also preserve the nutrients and making unique flavor of tea.

Milk Oolong is 100% hand-picked, drying by sun and the scent of milk is natural. The taste of Milk Oolong is light, creamy, and flowery.
The specialty of Milk Oolong is popular among female and young generations in Taiwan.

Dry Tea: Ball type dark green.
Tea Liquid: Golden
Tea Incense: Milk, honey and flower.
After-taste: Sweet.

Content
75 grams or 150grams of 100% Alishan Oolong Loose Leaves, vacuum package in tin can.

Can
There is a special design in the can, the ring will be removed once it is open.

Storage
Drink it as soon as possible and please keep away from sunlight and humid environment.

Let's make tea together !

~Hot Brew:

Tea Amount: For tight ball shape tea leaves, please fill the cup / tea pot with tea leaves which cover one fifth of the cup/tea pot. For tight ball shape tea leaves,

Water Temperature: 85-95degree Celsius

Time: First steep : 80 sec, the most aromatic.
Second steep : 40 sec, rich flavor.
Third steep : Increase 30 sec from third steep on.

~Cold Brew:

Tea Amount: Put tea leaves into the bottle which contains 90% water.
100cc water: 2g tea leaves

Water Temperature: Cold or room temperature water

Time: Avoid sunlight and put it indoors or in the refrigerator for 6-8 hours.